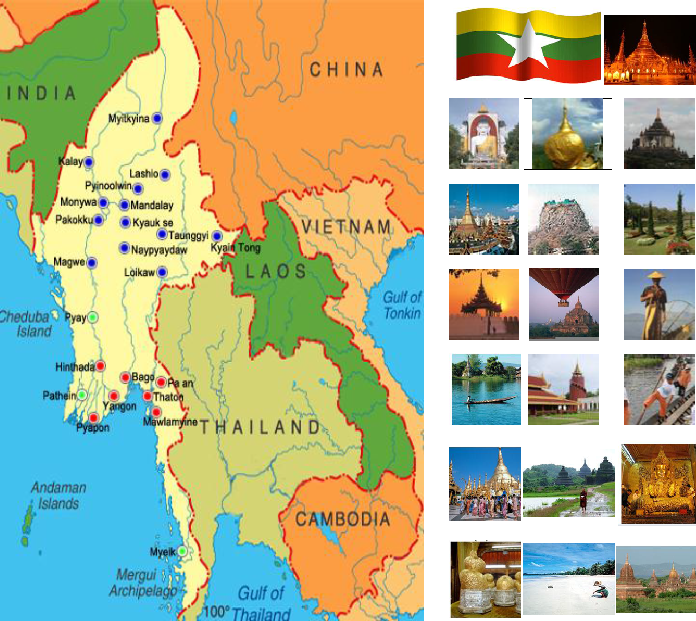 Myanmar is largest main land in South East Asia, bordering with Bangladesh, India, China, Laos and Thailand. Nay Pyi Taw is new capital , follow by Yangon and Mandalay. Myanmar is a vast, beautiful country that still retains a greater part of its traditional values and culture. Myanmar is Visitors to the country are amazed to discover its wealth of culture, pristine nature, sincerely friendly people and their great pagodas. The people are deeply religious & live in harmony with each other, and it is safe for locals & visitors to travel to remote regions. Clients are safe since there is no street crime.
There is much to see. Myanmar covers 261,228 sq miles ( 676,577 sq km), has a coastline measuring 1,275 miles ( 2051 km). The terrain ranges from arid plains to cool, sprawling hills, ice-caped moun-tains white-sand beaches, lush farm land , hidden valleys and thick virgin forest.
People
There are 135 national races in Myanmar by official count. The Bamar are majority of more than 60 million populations. The other main group are Shan, Kachin, Chin, Kayah, Kayin, Mon & Rakhine. The majority of the people are Theravada Buddhists at about 85%, with Christians at around 10%, Muslims and Hindus at around 4% and others, usually animists who revere deities in their own culture, 1%. As the way of life for most of the population is based upon Thera-vada Buddhism which shows the path to harmonious living, and to avoid greet & attachment of material things. The people are deeply rooted in their beliefs and culture, and it is by those two things that they are driven in their daily lives and how they view the world, for their cultural values take precedent over desire for material wealth.
Currency
Myanmar's national currency is Kyat (MMK or Ks), availability notes are Ks 50, Ks 100, Ks 200, Ks 500, Ks 1000, Ks 5000, and Ks 10,000. Currently more than 350 ATMs in Myanmar accept MasterCard and Maestro/Cirrus cards. Meanwhile, MasterCard is accepted for payments at more than 500 restaurants, retail outlets and hotels in Myanmar. However, we suggest Travelers should also carry their cash in US dollars so that they can be exchanged at the Yangon airport, banks, hotels and money exchange service counters. Credit cards and travelers cheques are also not accepted in most places except for some high class hotels.
Tourism
Although tourism declined significantly during the war with Iraq, it has been subsequently recovered. About 1,659,000 foreign tourists visited Iran in 2004, and 2.3 million in 2009, mostly from Asian countries, including the republics of Central Asia, while about 10% came from the European Union and North America. Over five million tourists visited Iran in the fiscal year of 2014–2015, ending March 21, four percent more year-on-year.
the most popular tourist destinations
alongside the capital, are Isfahan, Mashhad and Shiraz. In the early 2000s, the industry faced serious limitations in infrastructure, communications, industry standards and personnel training.The majority of the 300,000 tourist visas granted in 2003 were obtained by Asian Muslims, who presumably intended to visit important pilgrimage sites in Mashhad and Qom.
Passport & Visa
A valid passport with Entry visa is required for all tourists & businessmen, applicable at Myanmar Embassies and Consulate General Offices abroad. Both Tourist Visa & Business Visa are valid for 28 days, extendible to 14 days for tourists & 3 months for business. Visa exemption detail & online visa application at www.evisa.moip.gov.mm
Gate Ways to Myanmar
There are border & air entries into Myanmar. Recently Yangon Int'l airport is the busiest port with foreign travellers around the world. There are 12 Int'l flights operate direct to Yangon from Bangkok, Chiangmai, Singapore , Kuala Lumpur, Hanoi, Hochi Minh, Siam Riep,Gaya, Kolkata,Guangzhou, Kunming and Taipei.
Clothing
Light, casual wear, preferably cotton is suitable all year round. A cardigan or light jerkin, when visiting northern Myanmar in cold season. Sandals or slippers are convenient , as the dress code for pagodas and monasteries precrive decent apparel ( ie, no shots or pents ) and no footwear.( ie, removal of shoes and socks )
Communication
Postal Service- The Yangon Central Post office is open from 9.30am to 4.30pm. Most hotels provide mail boxes and postage stamp are available at the reception counters. Telephone - IDD calls to worldwide, local calls are available at most hotels in major tour sites. Internet/email - available at public service coffee shops & snack bar, as well as most hotels in major tour sites. Prepaid phone cards are available at International airport arrival gates.
Domestic Travelling & Domestic flights
The main tourist centers are located at a distance from Yangon, and it is convenient for visitors to travel by domestic flights. Recently, there are 5 domestic flights operate to major tour sites.
Rail Service
Yangon-Mandalay is the main rail link with four express trains running daily between Yangon and Mandalay. Furnished coaches ( Cherry and Padauk ) for a group of 4 or 8 persons are available. From Thazi on the Yangon-Mandalay line, a branch line runs to Shwenyaung ( the nearest station to Inle Lake ) and to Taunggyi. From Mandalay, there are rail services to Maymyo, Lashio , Monywa and Bagan. There are also rail services from Yangon to Bagan , Naypyitaw_a new capital which operate on alternate days.
Road Transport
Most tourist sites are accessible by road. There are 12 Highway Bus services running between Yangon and Mandalay / Bagan / Maymyo using air-conditioned coaches. Travelling time about 14-15hours with a brief stop at Taungoo and Pyinmana. Limousine taxis and mini-buses are available in tour sites for sightseeing.
Inland Waterways
Myanmar has many rivers and a large delta in which the Inland Water Transport operates a huge fleet of double and triple-decker boats. . A journey on Myanmar's Irrawaddy River is one of life's great travel experiences. The north and western part of the country are very rugged and mountainous. Three parallel chains of mountain ranges run from north to south. They begin from the eastern extremity of the Himalaya to Hka-kabo Razi (5881 meters), the highest peak in South-East Asia. The mountain chains separate the country into three river systems the Ayeyarwaddy, Sittaung and Than-Lwin.

(end of listings)